New Year, new wedding trends! We asked celebrity wedding planner and The Wedding Shop by Shutterfly's Style Partner, Mindy Weiss, to share what she thinks will be the top trends of 2018. From non-traditional dessert ideas to balloon reception décor, here are some of our favorites.
1. Metallic Colors
Neutrals and pastels continue to be popular palettes, but a new twist this season is adding metallic touches to your tables, reception decor, and even your bridesmaid dresses. The contrast between the soft pastels and the striking metals creates a nice unexpected visual for guests. Other colors of the season include deep hues like eggplant, burnt orange, and fuchsia.
Photo Credit: Jasmine Noris Photography
2. Smaller But More Flowers
Low, intimate floral arrangements will prevail over tall centerpieces. The lower, lush florals allow for conversation across the table, as well as the opportunity for eye-catching tablescapes. Style is leaning towards more cascading greenery incorporated in unstructured ways throughout the tableware.
3. Amaranthus
In terms of actual floral trends, amaranthus is back! This cascading plant gives floral pieces a lush feel and the striking color adds interest to tables with clean white linens.

Photo Credit: Aaron and Jillian Photography
4. French Service Dinners
In recent years, brides have saved money by choosing family style over plated dinners. However, family style can be limiting as the plates take up so much room on the table — causing couples to sacrifice décor. A great alternative is French Service, where waiters go around guest-to-guest with trays of food that they can pick from. Yummy appetizers like brussels sprouts and french fries can stay on the table for guests to nibble on.
5. Cakes on the Decline
Couples are putting less and less emphasis on cakes at their wedding. Mindy sees smaller cakes this year that are pre-sliced (less time cutting = more time devoted to dancing!). There will also be more dessert options like passed pretzels and churros that can be devoured right on the dance floor.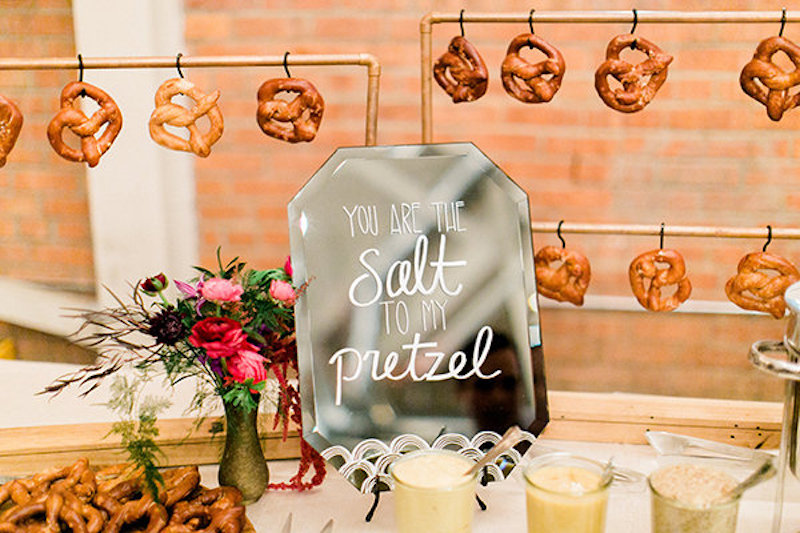 Photo Credit: Kaysen Photo
6. Gift Lounges
Having a gift lounge for traveling guests instead of hotel room welcome bags is another big trend. Instead of having bags delivered to the rooms, guests can pick and choose what they like from an assortment of items upon arrival at the hotel. It's also a great way for the bride and groom to get face time with their guests before the wedding without having to greet each person individually upon arrival. 
7. Less Traditional Invites
While paper invites are still the way to go, couples are having more fun with their invites. Mindy is seeing a lot of mixing of different fonts and engravings, less monograms, and more customized logos especially for the couple.
8. Useful Favors
No one wants a drawer in their house full of all the unusable favors from weddings past. Mindy thinks breakfast-to-go or a Starbucks gift card is a perfect favor — people always need carbs after a night of partying and who doesn't want a nice warm latte to start their day the next morning?
Photo Credit: Bantam Bagels
9. Colored candles
Instead of the standard white and ivory candles, couples are looking to add a splash of color to their décor accents. Colored candles on tablescapes or peppered throughout the event space are an easy way to add something unexpected to your décor. Candle holders are also a great way to add a pop of color to small details.
10. Balloons
Couples are really loving using balloons in their wedding décor. White balloons mixed with metallics keep things chic, but fun. Elegant balloon walls are especially popular – and make a great photo backdrop!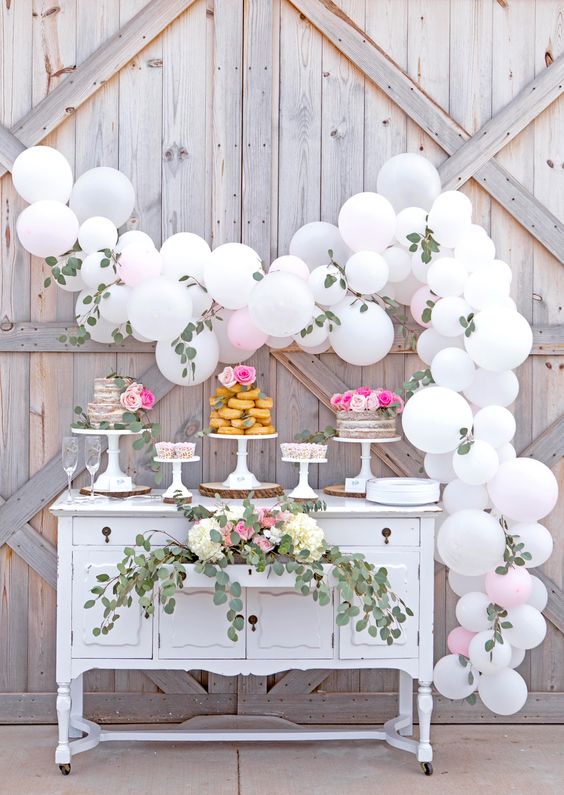 Photo Credit: Lillian Hope Designs
Which of these trends would you like to include on your wedding day?